Uprated Intercooler
Mini Cooper S Uprated Intercooler : £399.99
Optional Mirror Polished Intercooler End Tanks : £POA
*NEW* Optional Powder Coated Finish : £POA *NEW*
GRSmotorsport has spent many months in 2004 designing and developing this intercooler with a special innovated designed diffuser which is the first of its kind. This was launched to the world last August. Many hours of rolling road testing have been done to assure this intercooler is the best intercooler of its kind on the market today.
We carefully selected the right 'tube' & 'vain pitch' to ensure the core is right for this type of top mounted intercooler. The core is the same thickness as the original to allow maximum air flow from the bonnet scoop, but to achieve greater cooling has a greater surface area.

The end tanks have been specially designed to insure a 'ram air effect' is achieved through the core to achieve maximum cooling. 'Boxed end tanks' with sharp edges do not work as well as 'Tapered end tanks' as the charged air can become very lazy and turbulent within the intercooler and increases the pressure drop across the intercooler.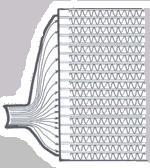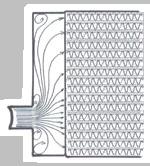 The standard Intercooler on the Mini Cooper S will only keep Air Charge Temperatures (ACT's) down to a satisfactory level with boost levels of no more than around 8-9psi. Once the boost pressures have been raised the ACT's associated with the higher boost levels can be excessive for a standard intercooler.

As ACT's rise, power is lost due to the air containing less oxygen. The GRSmotorsport Intercooler has been designed to keep the ACT's to a satisfactory level. When the GRSmotorsport intercooler was tested on the rolling road it showed no more than 38 degrees at all times, at 13-14psi, thus ensuring that maximum power is always available even in hot weather.

A new diffuser has now been introduced on the intercooler to help even out the air flow going through the scoop, making the cooling even more efficient. Also, CNC machined 'elliptical ends' from solid billet aluminium are now being used with a special machined edge to help prevent the rubber boots from slipping when using high boost levels.